Membership
New Members
No new members this week.
Member Stories
I lost a friend this past week, as we all do from time to time. George James, ,who recently moved to Smith Mountain Lake from Northern Virginia. George was just 67. George leaves behind his wife, Suzanne Pender and two sons, Patrick and Kevin. George was a long time PCA member and Club Racer. I spend many fun weekends with him on and off the track. George and Sue were just settling in and refurbishing their new home on the lake. You would have had the chance to meet him, but time ran out!
When we moved here in January of 2010, one of the first things I did was attend the Planning Meeting which was held at Martin's. I knew no one but showed up to a pot luck breakfast with pancakes cooked by Ed Clowser and goodies brought by all. I found these pictures when I was looking for a picture of George James with a big stripper bass he caught in an outing years ago.
The friendships I made that day have grown over the years. This region and its people are very special.
Activities
Blue Ridge Region PCA Events
| Date | Name | Venue | |
| --- | --- | --- | --- |
| Jun 10 | BRR-PCA Cars N Coffee - Lynchburg | Acorn Hill Lodge and Bistro | More Details |
| Jun 14 | BRR-PCA Executive Board Meeting | Sportscar Clinic | |
| Jun 24 | Back of the Dragon | Back of the Dragon | More Details |
| Jul 12 | BRR-PCA Executive Board Meeting | Sportscar Clinic | More Details |
| Aug 9 | BRR-PCA Full Board Meeting | BRR-PCA Location TBD | More Details |
| Sep 13 | BRR-PCA Executive Board Meeting | Sportscar Clinic | More Details |
| Oct 11 | BRR-PCA Executive Board Meeting | Sportscar Clinic | More Details |
| Nov 8 | BRR-PCA Full Board Meeting | BRR-PCA Location TBD | More Details |
| Dec 13 | BRR-PCA Executive Board Meeting | Sportscar Clinic | More Details |
Cars and Coffee
Coming up! On May 14. Hale's Restaurant in Shawsville VA. 0930 hrs. RSVP to social@brr-pca.org by noon May 11. Seating is limited Rumor has it that the Snowman is coming!
BRR-PCA Charity Fun Run, Picnic & New Members' Greeting Sat, Jun 25, 2022
The Blue Ridge Region PCA will be having a members' picnic at Smith Mountain Lake on Saturday, June 25th. In addition to the picnic, there will be the opportunity to tour a local private car collection, make a donation to a local charity, and see other sites with a tour ending at the picnic. This will also be a new members' social, with special deals for those who have recently joined our region.
The day will begin as we gather at the Food Lion parking lot, 14807 Moneta Rd in Moneta at 9:30am. A Driver's meeting is scheduled to begin at 9:45. At this time, we will also be gathering donation cash/checks for the Bedford Boys Tribute Center. We will depart at approximately 10:00 and drive to the National D-Day Memorial parking lot. Staff from the Bedford Boys Tribute Center will be meeting us there in order for us to present the donations in support of their mission. The presentation will begin at approximately 11:00. We will depart at 11:30 for a fun run to Smith Mountain Lake for the Newcomers' Social/Picnic at the home of Jeff and Jennifer. Those interested will also have an opportunity to tour a nearby private car collection, which includes Porsches, a Ferrari and an Amphi-Car, among other vehicles and memorabilia.
Smith Mountain Lake Cars & Coffee
Hogan's Corner
Blue Ridge members and cars at The Hub in Rocky Mount, VA, 2019.
Racing
Porsche motorsport legend Vic Elford passed away at his home in Plantation, Florida on March 13. The 86-year-old battled against cancer in recent years with the same tenacity and determination that made him one of only four drivers to record six major victories at the Nürburgring during his long racing career. Elford earned the nickname "Quick Vic" for his ability to wring speed from cars ranging from hill climb specials to rally racers, open-wheel Formula One cars and rocket-fast sports car prototypes. Elford is survived by his wife, Anita.
Elford was the first driver to have an average lap of the Circuit de la Sarthe (Le Mans) above 150 mph – he did so in a 1970 Porsche 917 LH (Long-Tail). He was a two-time 24 Hours of Le Mans class winner (1967 and 1973) and famously won the prestigious Monte Carlo Rally, driving a Porsche 911, and the Rolex 24 At Daytona, behind the wheel of a Porsche 907, in back-to-back weeks in 1967. The '67 Daytona win was the marque's first international 24-hour race victory.
Elford made eight starts at Le Mans, six in a Porsche, with the first victory coming piloting a Porsche 906 K, the second in a Ferrari. His last start at the endurance racing classic came in 1974 in the seat of a Porsche 911 Carrera RSR. His remarkable driving career also spanned into Can-Am and NASCAR's Daytona 500.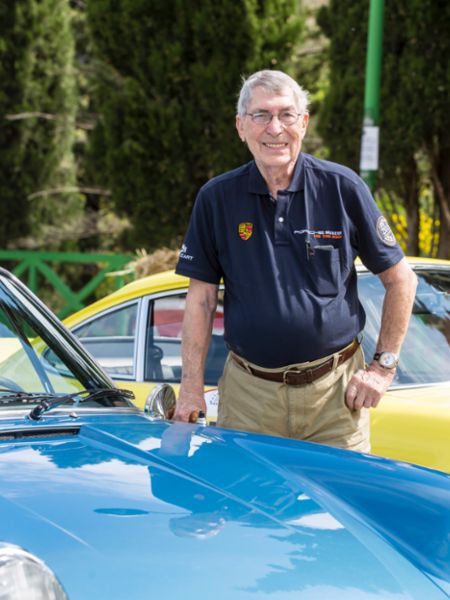 Nickname 'Quick Vic'
While his on-track success is nearly mythological, the greatest of all the accolades Elford achieved came in 1972 when he was named Chevalier de l'Ordre National du Mérite by French President Georges Pompidou. The prestigious honor was awarded for his act of courage and heroism during the 24 Hours of Le Mans when he stopped to assist a fellow driver from a burning car. The same outreach and consideration of his fellow drivers reached through the generations as Elford is recognized as a hero and mentor by countless drivers of today.
Elford's skill can readily be seen in the movie Le Mans where Steve McQueen chose him to handle the high-speed close-up action shots driving the famous Porsche 917. A role that celebrated its golden anniversary in June 2021 with the 50th Anniversary of the premiere of the iconic film.
A longtime driving coach, Elford also wrote two books: The Porsche High Performance Driving Handbook and Reflections on a Golden Era in Motorsport.
Porsche Gone Bad
First
Second
Third
And Finally
One More
And Another